Unified Anti-Water Tape Sheet
Questioned Points of Traditional Products
Mobile phones are essential item of daily life and could be wet so water-resistance is required.
Water-Resistance of Traditional Mobile Phone has Structure to prevent water with rubber O Ring on upper/lower boarders. Once big power on product by dropping or crook imposed, there might be gap and lose airproof and consequently Water-Resistant is down.
And, Water-Resistance using O-Ring requires unique pressure to O-Ring to prevent intrusion of water. Therefore Structure is complicated and expensive and Mobile phone's size becoming bigger.
Adapted to Thinner Type
Model
Unit Price of Products
Workability
Mass Production LT
Total Evaluation
Rubber Packing
0.7-0.8mm
100
100
△
1.5-2 Months
Limited to Thinner Type
Bigger Number of Operation at Products Assembly
Liquid Silicon
0.3mm
120
120
○
11.5-2 Months
Adaptable to Thinner Type but Price and Pinhole are worried
Our New Technics
0.2-0.3mm *with W Tape
50-60
70-80
○
Within 1 month
Most applicable for Products of Thinner Type.
Low-Price, Short Delivery Time to be big advantage
to detailed page of this products
Brand-New Water-Resistant Technics
Our unified water-resistant tape is that both-side water-resistant tape attached to plastic sheet formed adjusted to inner base plate and used to be attached to base plate of mobile phone for sealed structure. Thanks to this, it can prevent from water invasion in important parts of base plate side even if dropping or crook makes space in piece.
applied exemple of mobile terminal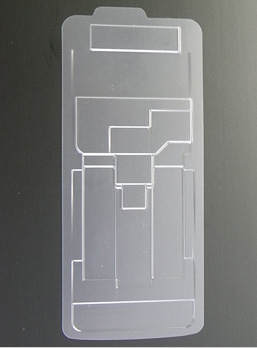 our product PC t=0.1mm
Thinner Space-saving
Due to sheet thickness 100 micron, we can make mobile phone thinner. And, in case of repairing base plate, sheet can be easily pealed and attached again.
Unified water-resistant tape sheet can be used for thin water resistant mobile equipment for not only mobile phone but also mobile game and mobile TV, etc.
to detailed page of this products